The formerly blasé basement at the Kips Bay Decorator Show House transformed into a chic wine lounge with just the right amount of dramatic flair.
Liz MacPhail, an Austin-based pro designer who s cleverly styled space: part lounge, part temperature-controlled vino storage, 100 percent oenophile's fantasy. She answers to the wood-paneled, cigar smoke-filled man cave.
MacPhail was unimpressed with what she saw the first she stepped  into the "sad 90s"-style cellar,
"I actually gasped," she said.
"In a sprawling, amply appointed house of this magnitude with sunrooms, sitting spaces, and bars galore, what is really going to bring the owners down to the basement cellar, other than to just grab a favorite bottle and head back upstairs for dinner or cocktail hour?"  She asked herself.
MacPhail envisioning a collector and connoisseur space to serve both as wine storage and as a lounge for the "woman of the house."
"We imagined this as a space to truly call her own and to fill with artwork—pieces she's picked up along the way and treasured heirlooms she's received over the years, passed down from family," says MacPhail.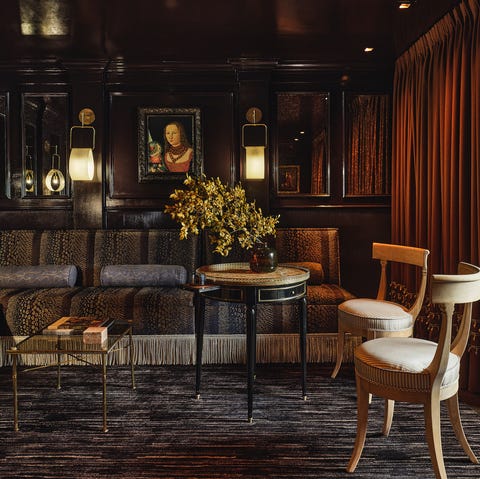 MacPhail calls the centerpiece of the space "the wildest, most gorgeous and unexpected" pink- and red-streaked floating counter and backsplash from Stone Boutique—topped with a custom Amuneal brass and glass shelving system, no less.
Indeed, it is a work of art in another sense.
She and her design team installed six 24-inch Signature Kitchen Suite wine columns, each one holding up to 113 bottles with three temperature zones for optimal storing conditions, for a combined 678 bottles.
Having worked with the SKS brand on several projects, MacPhail felt strongly about incorporating the refrigerators' Wine Cave Technology™. "It mimics the ideal environment of historic, old-world wine caves and keeps harmful elements at bay," she says.
There's even an option to download the Signature Sommelier™ app, which lets a user know when vintages are at peak perfection and memorizes your preferences for Barolo or Cabernet Sauvignon to suggest new picks.
She played up the intimate setting with warm reds, pinks, aubergines, and chestnut hues, including the chocolate paint color (Caponata from Benjamin Moore) on the walls. To keep the room from feeling too dark, they chose a high-gloss paint finish and installed a series of wall sconces and custom-cut mirrors that would "add to the drama and bounce light around."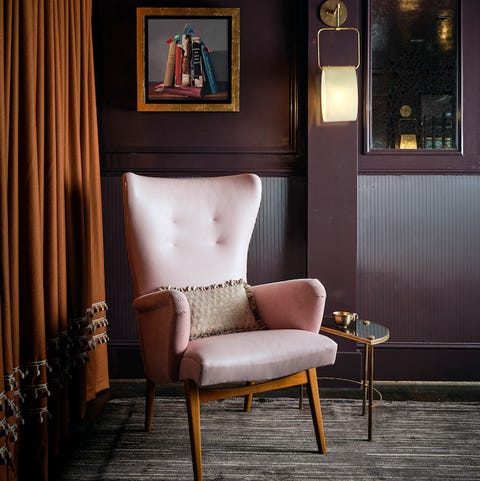 Fringed rust-colored draperies lead into the storage area and a custom patterned banquette is the cornerstone of various seating options. A three-piece glass coffee table transforms into a series of side tables, says MacPhail, and a boucherouite table offers "a place to play cards or mahjong or set up a laptop for a business meeting."